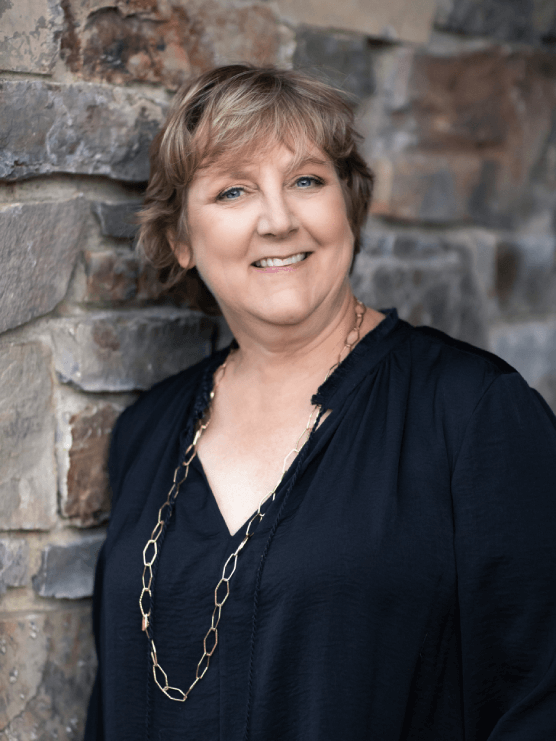 Karin is the Simpson Group founder and team lead. If you ask Karin what education makes a Real Estate Broker – she will answer Theatre Production Management or the School of Life! Classically trained in Production Management from North Carolina School of the Arts, University of Pittsburgh, home to Three River's Shakespeare Festival – she worked behind the scenes since the young age of 15. With a career of 20 + years in Event Management including running the largest event in Mall of America history at the time, General Manager of Star Wars Celebration 2005 and overseeing countless tournaments, extravaganzas, product launches as well as the VP of Marketing and Operations for the 120 game store chain, Wizard of the Coast – she definitely knows how to get things done.
Ready to be done with Fortune 500 companies and an emerging desire to move toward entrepreneurship, Real Estate seemed like a great use of her mixed skill set. With years of contract negotiations, excellent written and verbal communication, budget and forecasting and her "Show Must Go On" mentality (aka trouble shooting), she offers clients a unique experience packed with first-rate service. She's never looked back and her 17 years in Real Estate have been so rewarding, she's met so many people from different backgrounds with fascinating stories. To help those people in times of excitement or times where it is the end of a chapter – she always has their best interest at heart and utilizes her vast experience and diverse skills to guide the way and smooth out any unforeseen bumps in the process.
Karin and her team stand for integrity. Their clients are friends for life, not just for one deal. 95% of Karin's business is referral or repeat business. She specializes in all types of Residential Real Estate with expertise in Luxury, Vacation Rental and Airbnb Investment, both Buying and Selling. Karin is the recipient of the industry recognized Five Star Customer Service Award, 13-years running – the only Snoqualmie Valley agent to have achieved this for that many years. This is a true testament to her wealth of experience, knowledge, integrity and professionalism which she brings to all her client relationships and transactions.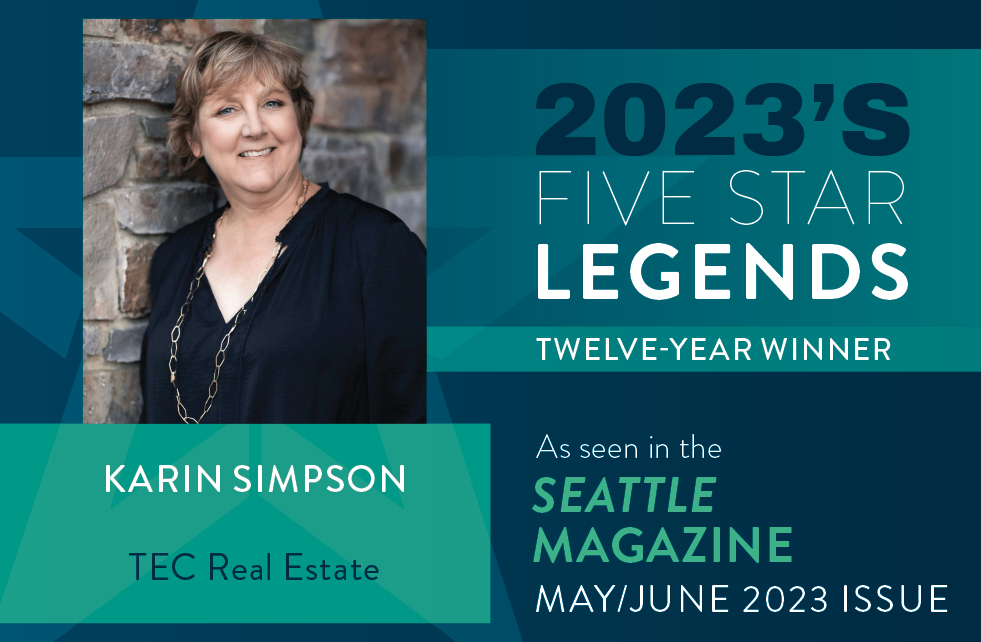 Less than 0.5% of the more than 22,000 agents in the Seattle area were awarded the honor of the Five Star Award.
Karin is the recipient of the industry recognized Five Star Customer Service Award, 13-years running…

"As a first-time home seller, we have heard from friends that selling can be quite stressful, especially during the pandemic. We were so glad that we found Karin and the Simpson Group who took care of everything for us. We know that we are in good hands as Karin came to check out the house immediately, shared the punch list of things to get our house ready, and let us know that she would handle all of the work for us. Karin provided a comprehensive assessment of the value of our house, staging the place in a way that's both welcoming and eye-catching. We got text messages from our neighbors "complaining" about how busy the open house has been. All the marketing efforts got our house so many offers that took quite some time to go over. Thanks to Karin's great summary and the time she spent walking us through the offers and explanation of details. We can say with all sincerity that we made the best decision by choosing to work with Karin and the Simpson Group."

Colleen and Joyce Chui
""The easiest and best to work with! My husband and I were first time homebuyers and Karin took the time to explain EVERYTHING to us no matter how many questions we had. Easily reachable by text, phone, and email, we even reviewed our offer in detail over the phone because we wanted to jump on it quickly and snow prevented us from meeting up. Terrific guidance to help us decide on the offer price we went in with and made me feel reassured throughout the whole closing process. Definitely recommend her services!""

Kevin & Danielle Watson
"
"Working with Karin and her team is an absolute dream. For starters Karin is a great communicator. She explained the selling process in detail, breaking everything down so it was simple and easy to understand.  It's clear she has vast knowledge about real estate in general.
Staging the house turned out very well and created much added value to the home overall. The added furniture and art seemed to elevate the house overall. We were pleasantly surprised by the work ethic of her team and the ease of working with them.
Karin is very skilled in pricing homes. She surveyed the market for weeks and researched all comps in the area. She listed our home fairly, and it actually sold for over asking!! I firmly believe this is due to the incredible work of her team. All in all Karin is very responsive. All the questions we had were answered quickly and clearly.  We would definitely work with her for an further real estate purchases or sales."
We highly recommend her!
"

Nicole & Stefan Alano
""Karin Simpson helped sell our home in 2020. Over the course of selling, we got to know her and her support staff very well.   Based on our experience with her, she is the best in the business.  Working with her it became obvious she has years of experience in the real estate market. She listens and works closely with you, respecting your opinions while helping you understand what works best in marketing your home and how to properly price it. She has a great personality, knows everyone in the industry, which gives her a network of other realtors that helps with marketing your property, is great at staging and showing your home in its best light, and has a great supporting cast of agents in her office to help sell yourhome. She went above and beyond in how hard and well she worked to sell our home. On a scale of one to ten, with ten being excellent, we give her a fifteen!""

Greg and Jan Cromwell
"Karin Simpson is the best Real Estate person I have ever worked with. She staged my house in such a Professional way the house didn't look the same when she was done. Had such GREAT ideas! And she and her team put much work and thought into everything they did. House sold in two days for more than I thought possible! Want her and her team on any buy or sell houses I ever do. Can't say enough!"

Jim Bramlet
""Karin Simpson is genuinely the best realtor I have ever known. She is authentic, she is diligent, and she is incredibly good at what she does. Thirteen years ago I felt so cared for by her in the purchase of my home -- it was a stretch for me and she helped me to find a way to make it work. Now, as I look to purchase my next home, my experience with Karin has been exactly as it was the first time. I cannot recommend her enough -- she is not only a wonderful realtor, but she is also a wonderful person!""

David Lutz