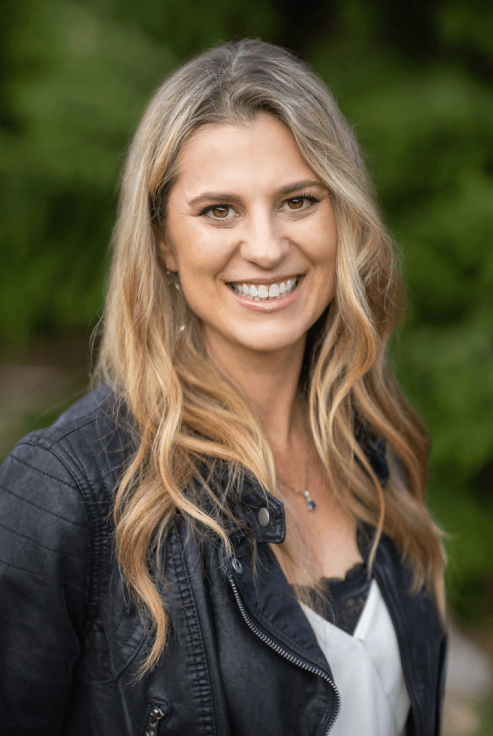 As your Realtor®, Karin's focus is to successfully achieve your goals – whether to purchase your dream home, sell an existing property or determine ROI on investment properties.
Buying and selling a home is one of the biggest events in your life. As part of the Simpson Group team, Karin will position the resources, experience and her expertise to work for you. She prides herself on ethics, integrity and customer service. She treats each transaction as if it were her own. She is detail oriented and knows that addressing the needs and concerns of her clients in a timely manner is most critical to ensure a smooth & successful transaction. She provides her clients with the information they need and ongoing communication throughout the entire process.
A Puget Sound native, Karin grew up in Renton/Issaquah, tried downtown Seattle, Kent, Maple Valley but eventually fell in love with her riverfront home in North Bend. She holds a Bachelor of Science degree in Computers. Her hobbies aside from Real Estate are skiing, trail running, biking, hiking, swimming, reading, and home decor. Her passion for houses brought her into the Real Estate business over 18 years ago. Her mother, Carole Sattler had been a Real Estate Sales Associate for 35 years so you could say it's in the blood.
It is her goal to help you accomplish an extremely positive and enjoyable Real Estate experience. She is honored to be a part of the Simpson Group and looks forward to working with you and fulfilling all your real estate needs.

"Karin was a random link through Zillow and we could not have asked for a better experience. We were looking for a quirky fixer and she found us two, one fell through (no fault of hers) and the second turned out to be our dream home. 'Before we check out the North Bend house, we should go see this weird house in Fall City that just came on the market.' We did and within 4 days, had the offer accepted. As first-time home buyers, Karin guided us in making a clean offer, being appealing to the seller in such a challenging market and working through the many hurdles that are inherent in buying a house. While we aren't planning on selling any time soon, when we do, Karin will be our agent!"

Glenn and Christine
"Karin sold my house for me in 2014. Everything from start to finish was smooth. When I decided to buy there was no better choice to help me with the buying process than Karin. She has spent countless days helping us find the right house. I highly recommend Karin for your housing needs. She is knowledgeable and will always go out of her way for her customers. I have bought and sold many homes over the years and I have to say Karin has been the absolute best real estate agent I have worked with by far."

Karrie
"Karin Ayling is professional, responsible, chill, and a great listener. Motivated agent who will patiently work with you to find just the right place and then help you negotiate to get it. Highly recommend"

Tina Bowness
"Mrs. Ayling is a very knowledgeable, patient agent. She was always available for all my questions and made the search and buying process as smooth as it could be. This was my first time buying a home and I was approved for an FHA Loan. I was out bid on 4 houses...I was greatly discouraged. Mrs. Ayling was not. We put our heads together and developed a strategy...I am in the perfect house for a month now. I couldn't be more happy!"

Sara Sattler
"We worked with Karin Ayling in selling our current home and purchasing another. This process was more difficult because the purchase of the new house had to be contingent on the sale of our existing home. Karin was able to convince the sellers and their agent to accept our offer in a market in which contingent sales are not the norm. We were impressed with her ability to objectively handle all the issues presented and with her quick and concise communication. Based upon this experience any future real estate transactions we might have will be handled by Karin. We feel comfortable in highly recommending her."

John and Sara
"My wife and I had met with a few realtors prior to making our decision on who we would have list our home. We chose Karin after our first visit because we felt she had our best interests in mind. Our sale was unique in that it was a hand-hewn log home. To sell this home it took patience and determination which I ran out of on several occasions, but Karin never did. She listened to our goals and worked hard to help us achieve them. Karin maintained a high level of enthusiasm through the entire sale. She is confident, respectful, knowledgeable about real estate procedures and fun to work with. We recommend Karin and we will call her again when we have another real estate transaction."

Teresa and Michael
"Karin is a rare local, having lived here all her life, and knows the history surrounding each neighborhood. After one short-sell fell through, Karin continued to be positive and helped us discover our current home, which we love. Karin effectively negotiated our terms with the sellers to facilitate a quick closing and lined up all the necessary inspections. We will definitely use Karin again."

The Whites
"Karin assisted me in finding the right home in the area I was looking. She brought several options to the table and we found a home that was perfect. There were several offers on the table so that made this a bit more tense. With her experience and knowledge in the market, she made a recommendation and we were able to get the home. I would recommend her to anyone who wants to find that perfect home and work with a professional that you can trust. Thank you, Karin!"

Barb
"Karin Ayling did an amazing job both selling our house and helping us buy the next one. She sold our house in record time for more than asking price! Then she helped us navigate a complex short sale for our next home purchase. She handled many difficult personalities in both transactions with grace and professionalism. Karin made a challenging experience a lot easier. We love our new home!"

Keva D.
"Karin helped us a lot with exploring the area we were interested in. She stayed in touch, without being pushy, and was always pleasant to deal with. I would highly recommend her to anyone looking for property in her area."

Richard Hensman